Cerkit the Robot – a preschool development project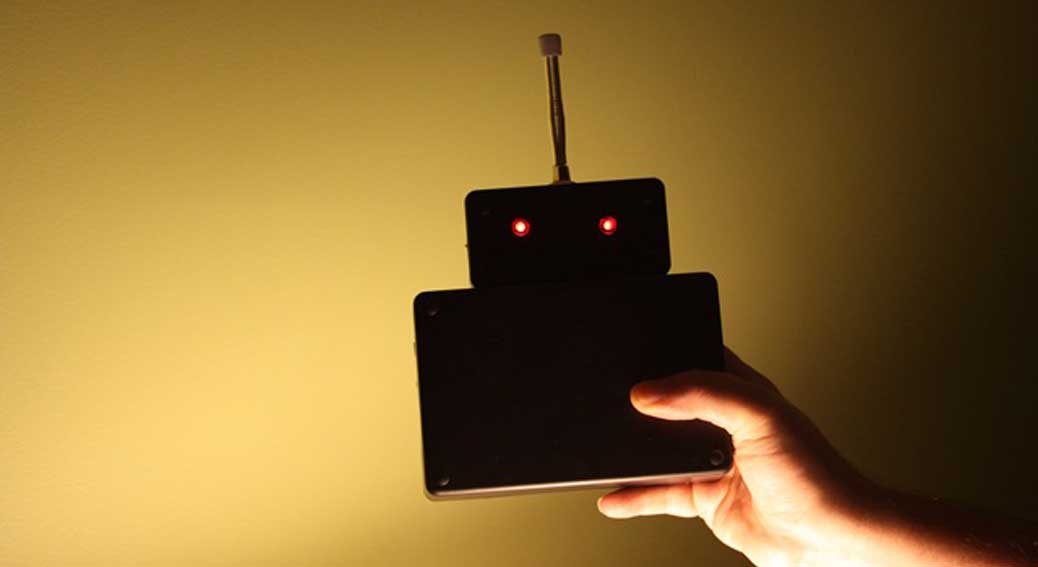 Laurie is a preschool teacher. She needs a teaching tool for teaching phonemic awareness. I'm making "Cerkit the Robot" to fill her needs. When a child segregates a sound, they can only understand speech like a robot, so you have to talk to them as such. In other words, the word "CAT" is spoken as "K", "AH", "T", all separated by a pause.
When they get it correct, Cerkit's eyes will light up. Cerkit's eyes are LEDs controlled by a switch.
Here's the parts list:
From Radio Shack:
Robot Body: part # 270-1806 (Project Enclosure)
Robot Head: part #270-1802 (Project Enclosure)
Eyes: 2x part #276-0270 (Red LED Assembly)
Battery: part #270-324 (Heavy Duty 9v battery snap connectors)
Switch: part #275-618 (Pushbutton Switch)
Arms and legs: part #278-1624 (Split cable tubing)
Wire (I bought a 50 ft. 4 conductor telephone wire spool. Make sure it's solid and not "twisted pair") – pt #278-872 (24 ga. Solid 4 conductor telephone wire)
Soldering Iron
Solder
From Lowe's
2x 2.5" washers
"antenna" : B6148 Door Stoppers
Nuts/bolts (I bought 10x24x1-1/4) – Lowe's #491301
A Dremel drill is recommended in this process, as well.
Here are a few pictures to illustrate the making of Cerkit…
First, I drilled the holes in the head and inserted the LEDs.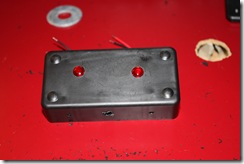 I then wired the eyes together (red on one LED to black on the other). I then fed the remaining wires (black and red) through a hole that I drilled between the head and the body. I then attached the head to the body using the nuts and bolts (I first drilled pilot holes).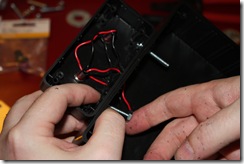 I then attached the door stop to the head.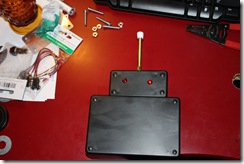 I attached the wires to the 9v power supply. (Black to black). Then, I attached the remaining wire to the switch (red). From the other side of the switch, I attached the wire to the 9v power supply (red to red). I then soldered all the connections.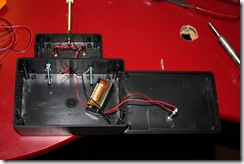 The evil robot shot…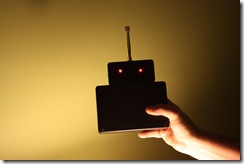 Cerkit with his eyes attached.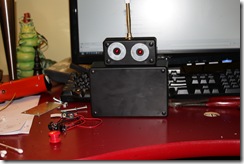 The final shot.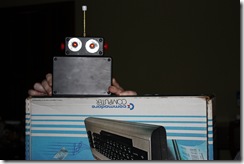 The button is mounted on the back of the robot and triggers the eyes to light up.
Cerkit the robot is now ready to delight preschoolers for years to come!